Writing-with-Love™
"A beautifully written book…a stark reminder of why it's important to have conversations with elders…they have amazing #stories to tell!"—★★★★★ Amazon.com Review
Máirín's witnessing Lives for decades – first and always with words. Lamentations of a youngest child's Life – written at that table, age five. Mass-missing musings about single-parent families – in church, age eight. Speeches Inspiring three to 3,000. Passion-prone blogs at Medium.com. Betty's Tips for Children's Brains: SUN-SHUN-FUN!™ NOT-Trashy Romances with Medium-size Twists. Passion Plays. Poetry, Photoetry, and (admittedly) lousy Limericks!

Máirín's Amazon eBooks are free with Kindle Unlimited. Many feature Original Paintings by Parkinson's Artist Ann Devine Williams. Ann's Art™ is available to purchase. Betty's Tips™ are always free to families in need. Please ask.

★★★★★ Author and Emmy® Award-winning Journalist Máirín? Speaking, too! All Máirín's eBooks and Learning-with-Love™ Presentations captivate audiences – FAB4Brains™ AND Souls. Read AND Listen UP: Love IS!™
She's arrived! Tea for Two: Muriel's Message©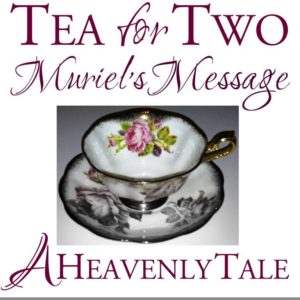 Á la Jane Austen, I imagine releasing new books might be a bit like bearing children. This baby's definitely a "she" – in many ways. My colorful, Meaning-full formatting is Intentional – for many reasons, some still … gestational. And yes, I make up words. A lot. FYI: So do They.*
Mindfully written for and inspired by women and men co-writing and -piloting me from both sides of Heaven, Tea for Two: Muriel's Message is a thought-provoking tale based in Conversation with Heaven. 100% of royalties benefits Crisis Center for South Suburbia, a Chicago-area charity saving lives since 1979.
Read more here about Tea for Two and join me in my three endeavors for CCSS. And then? *They?
#AmWriting. I. Can't. Not. Write.
My Readings AND Books? Always for charities. CAN I write? That's for YOU to decide. I AM chasing a NEW genre – that 'sweet spot' between contemporary and literary fiction. Words move. Grammar matters. (Mantras, more.) I endeavor so I MAY do my fave of creative things: Read. Write. Raise UP!
Máirín's Writing. Last? NEXT?
Finding Susannah© "… it reads like a mystery novella with twists and turns on every page."—★★★★★ Máirín's latest eBook? Earning raves – both sides of the Atlantic! 100% of Royalties benefit The Friends of Wombwell Cemetery in Yorkshire, England. Like WDYTYA? You'll LOVE this compelling story still writing itself after one wee question: "Where IS she?!"

Máirín's Books? Always for charity. Máirín's Readings? Always offered in Charity. Both? Always about only TWO things. Máirín has three Medium-size Books in the works. Her newest?

Spend an Hour in Heaven! Amazon Short Read-as-UPlifting Gift. Researching new beneficiaries: Nominate your favorite Good Cause!

Charity Cocktails & Conversation. Raise UP!

NOW BOOKING: Signings & Discussions.
#AmWriting … about UP!
2017 realized a lifelong Dream BIG: Máirín gratefully received traditional-publishing offers! What had one publisher penning offers – even before a Fly-by Reading with its literary lawyer?

The Astonished Medium© Real Stories. Edifying Lessons. Inspiring Messages. Life-changing feedback – for Máirín, too. Truly: Love IS!™ Autumn 2018.

The Reluctant Medium© One letter – received a year after a Fly-by Reading in Tarjay – changed Máirín's Life forever. The journey to BEcoming & BEing Medium Máirín – so far. Autumn 2019.

Blooming Lilacs© Giving someone flowers this weekend? Better be sure you know what you really, really want…. First of two in a nine-book Series: Romances with a Medium-size twist!

Keep UP with Máirín: Read UP today!
#AmWriting … Looking UP!
Creating with words, images, and emojis – Sorry! – Inspiring everyone Máirín possibly CAN toward Love, Healing, Hope….

Máirín ghost writes and edits helping nonprofits and community groups. Please just ask. Máirín Reads for charities, too: Spirit FUNdraising!™

Writing? Divine! Just like ALL Conversations with Heaven. Book a Reading and see!

Fortunate Medium Máirín IS – She knows! – to write so-moving stories. Still. Amen!

Thank you ALL for wriding along! 😉
See? Máirín. Can't. Not. Write.

Máirín's even Ghost Writing! Máirín still donates her time and talent researching and writing for charities and community groups. Learn more.

Read. Write. Raise UP! O'course, Máirín's mostly writing books about AND Reading real Ghosts! 😉 No matter the subject: Máirín's eBooks are free with Kindle Unlimited; AND 100% of Máirín's eBook royalties support Good Works.

Look UP: Read UP!™