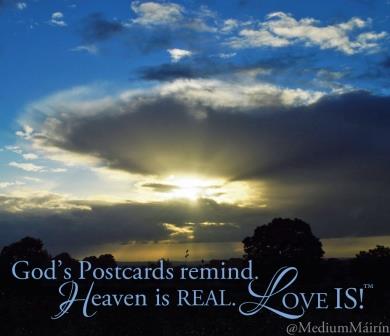 Look UP. Love IS!™
You won't find an appointment calendar here.

Unlike most Mediums, Máirín tailors Readings and Meetings to your needs.

Request what you need from Máirín's Menu. Please include all required details, in specific. Per your request, Máirín or someone from Team Máirín will correspond directly – usually within 24 hours. If you don't hear from us, please contact Team Mairin [at] MediumMairin [dot] com (sans spaces). Thank you!

Need something different? Including date(s), times, and specifics of your needs: Just ask!
FAQs
Máirín's an early-rising Medium!
All formats begin between 6a & 2p.
All Bookings are in Central Time (UMT –5).
Requests are confirmed in order of receipt.
Payments due at Booking: transferrable; not refundable.
Booking Confirmation eMails detail payment and preparation.
Banks and PayPal determine $USD conversion to £BPS–€Euro–$CAN, etc.
Neither this site nor Team Máirín has your financial information.
Enquirers are added to Máirín's Mailing List but never shared.
Máirín respects your privacy in Readings, into perpetuity.
Wait … are you even here?! 😉
Booking Request or Inquiry
By submitting this Request, you agree: "On behalf of myself and any other participant(s): I consent to reading, understanding, and accepting the Terms, Consents, and FAQs listed on this page."

Terms and Consent
Thank you for your request! Máirín facilitates Readings, Consultations, Events, Learning Workshops, and Programs ["services"] for the primary purpose of edification, encouragement, comfort. Services are offered to persons 18 years or older; at Máirín's discretion, children and young adults under 18 might participate if pre-requested and accompanied by a parent or legal guardian. No Medium can guarantee who will be Read in any session and in every format. Skepticism is counter intuitive and can adversely affect services; Clients meet with an open mind and intention to learn. Máirín reserves the right to refuse services to anyone except as prohibited by ethical business practice or law. Máirín may discontinue services, in which case Máirín will retain a minimum charge of 50% to 100% of the confirmed, agreed-upon fee. All conversation and information extended during these services shall be considered confidential and shall not be recorded, shared, or disclosed in any way except as required by law. Máirín and her representatives and publications and media platforms make no representations or warranties, either expressed or implied, concerning the information provided. Máirín is not certified to and does not offer medical, legal, or financial advice. These services, whether purchased or received as a gift, are subject to each person's own interpretation and Clients must consult a certified practitioner for any issue that warrants professional attention. Máirín and her representative(s) and publication(s) and media platforms do not assume and hereby disclaim any liability to any person or entity for any loss or damages resulting from use of these services and personal choices based thereupon, including without limitation, physical, medical, mental, financial, special, indirect, incidental, or consequential. Services are considered alternative pursuits by the IRS and are neither tax deductible nor covered by insurance. Fees are payable upon Booking Confirmation. Fees for extending services at Client's request are payable with 30 days. Payment is final, non-refundable, and non-transferable. Bookings may be rescheduled at Máirín's discretion (e.g., re family emergency), in which case your credit will remain viable for 30 days. Booking Requester accepts these terms on behalf of all Participant(s); fees payment will further constitute an electronic signature of consent. Thank you again for: your Booking Request; not using, disclosing, distributing, or copying this information; and considering Nature before printing anything.
Thank you for booking a Reading or Meeting with Máirín.
Remember: You Are Loved — and never alone.

Love IS — both sides of Heaven!™